Send Inquiry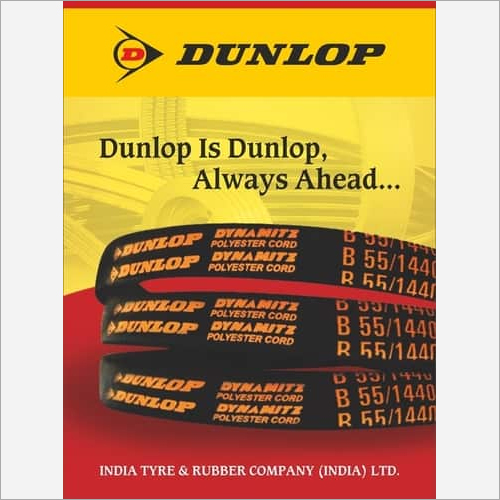 Trade Information
Telegraphic Transfer (T/T) Cash in Advance (CID) Cash Advance (CA)

1000 Set Per Month

4 Week

All India
Product Description
The exclusive outline of our V Belt involves an adjusted twist, complemented through a special processing that provides a balanced amalgamation of fatigue life, thermal, adhesion, rupture energy, modulus and strength properties. The qualities that our belt renders are always demanded in the market for varied applications. in addition, the jacket of provided V Belt is an amazing combination formulated for ideal performance in every condition. The fabric of the jacket is composed to near specifications, assuring sufficient adhesion to the processed rubber compound. Moreover, our belt is abrasion safe in nature that excels in gritty and dusty conditions.
Key Features:
Simple to remove and install with a rugged design, smooth finish, and longer life
An adjusted combination and premium bonding of components
Increased productivity, high temperature, shock load and hefty bending fatigue
Can effectively enhance the productivity
Assure elevated load capacity, longer functional life, and least maintenance
Industrial Vee Belts
The exclusive design of the load-carrying polyester cords-involving a balanced twist, supplemented by a special treatment-give the balanced combination of strength, modulus, energy of rupture, adhesion, thermal and fatigue life, properties demanded by a wide range of applications.
Perfect Hi-Polymer
Compound-impregnated jacket
The jacket is an unbeatable combination perfected by Dunlop for optimum performance in all conditions.
The jacket fabric, woven to close specifications, assures adequate adhesion to the rubber compound with which it is processed.
Result-abrasion-resistance that excels in dusty, girtty conditions.
The unique Hi-polymer compound provides.
Superior oil resistance
Excellent heat resistance
Improved wear resistance
Electrical properties
Specialised Rubber compounds:
Backed by the Mitsuboshi experience, the base and cushion compounds are designed after extensive study of the failure patterns of vee belts prevalent in industry. The compounds are mixed to close specifications in microprocessor-controlled internal mixers for a precisely controlled cycle. Continuous quality control is applied to ensure that all the batches are with in set specification limits. The cushion compound retains the dynamic bond under all adverse ambient conditions.
The base rubber not only provides an engineered anisotropy to meet product design parameters, it is a cooler running compound as well, designed to avoid crack growth
VEE Belt Tensioning:
Proper tensioning is a fundamental factor in the successful vee belt operation. Lack of tension will cause slippage and too much tension will cause excessive belt stretch as well as damage to the drive components such as bearing and shafts. Therefore to assure proper belt tension, following procedure is recommended.
Measure the length of span in millimeters
At the centre of the span apply a force with spring scale in a direction perpendicular to the span, until the belt is deflected from the normal by an amount equal to 0.015 mm for every millimeter of span length.
Not the force and compare it with value given in table below.
Tensioning forces
Belt cross section

Smaller pulley diameter (mm)

Force required to deflect belt 0.015 mm per millimeter of span

Kilogram force (kgf)

Newton (N)

A

80 to 140

1.0 to 1.5

10 to 15

B

125 to 200

2.0 to 3.1

20 to 30

C

200 to 400

4.1 to 6.1

40 to 60

D

350 to 600

7.7 to 11.2

75 to 110

E

500 and above

9.6 to 14.3

95 to 140
If the measured force is below the lower value, it indicates undertensioning, whilst a measured force above the higher value indicates overtensioning. However, when starting up a drive with new belts, the drive should be tensioned to the higher value since the tension falls rapidly in the early stages of running in.
Dunlop Dynamitz polyester cord vee belts are available in A,B,C,D,&E sections up to Size 418
Nominal Dimension

Length range

Section

Top width (mm)

height (mm)

Angle (degree)

Inside length (inch)

Pitch length (mm)

A

13

8

40

23 to 174

620 to 4456

B

17

11

40

26 to 278

703 to 7104

C

22

14

40

46 to 360

1224 to 9200

D

32

19

40

109 to 418

2848 to 10696

E

38

23

40

180 to 418

4664 to 10709

SPZ

10

6

40

-

-

SPA

13

9

40

-

-

SPB

17

13

40

-

-

SPC

22

18

40

-

-

Enter Buying Requirement Details